Red Dot sights are an incredibly important tool in the serious hunter's arsenal. Red Dot scopes are particularly favored by hunters for their visual superiority when keeping eyes on your prey. For the best shot you can take, Red Dot scopes are preferred by novice and expert hunters alike—with the right calibration, these scopes make taking down big and small game a sure thing.
The following is a list of the Top 5 Red Dot scopes on the market that are ideal for hunters.
1. Bushnell Trophy TRS-25 Red Dot Sight Riflescope, 1 x 25mm (Tilted Front Lens)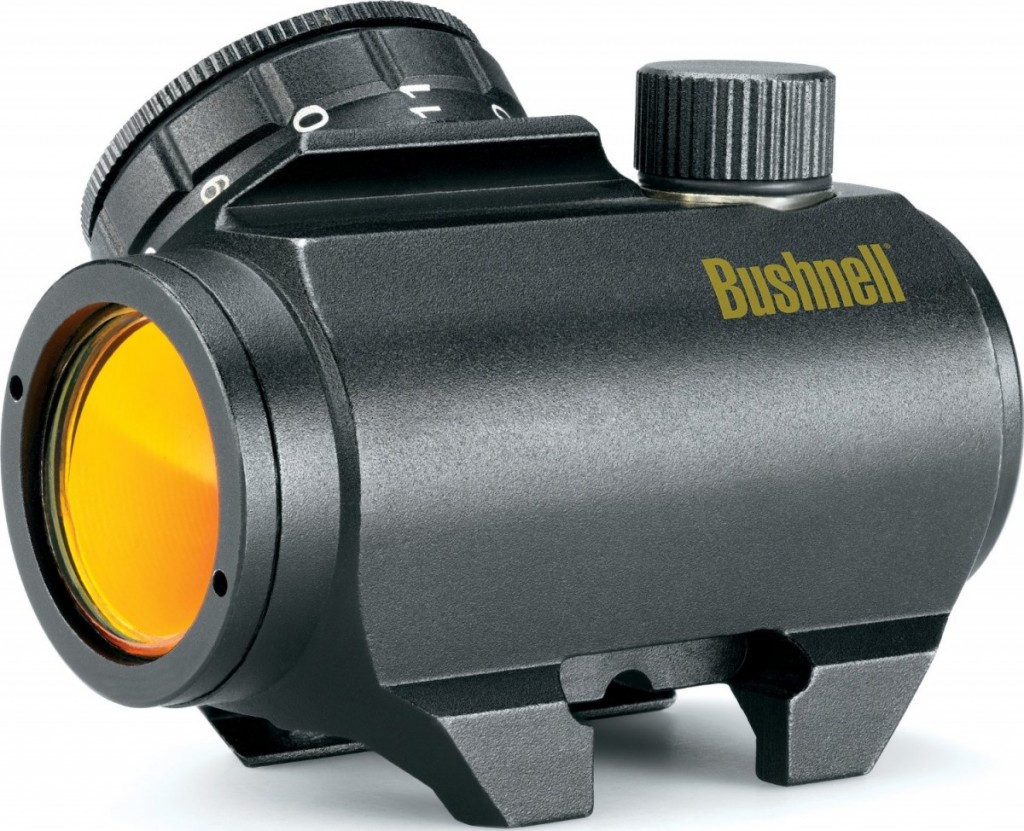 Amazon Link: http://goo.gl/m84Dvk
Available in both Black and Realtree APG Camo, Bushnell's popular Trophy Red Dot Sight Riflescope (TRS-25, 1 x 25mm) has a tilted amber front lens that uses reflected light create an accurate red dot for ideal sight. This is unlike conventional riflescopes as the red dot sight is positioned off axis—this angle allows the light generated by the battery-powered LED light inside the unit to be reflected back. This aiming reference is what makes the modern red dot sight so easy to use and extremely popular among hunters.
This scope by Bushnell uses a 1 x 25mm (1x power and 25mm objective lens) red dot for easy target acquisition and has a 3 MOA, dot-reticle. The Amber-Bright high contrast lens coating creates the red dot that is reliable for a perfect hunt.
The optics are of the highest quality and feature HD clarity of the world around you. The materials are tested extensively to ensure quality and durability. The 3 MOA red dot sight has 11 brightness settings and unlimited eye relief.
Included in this purchase is Realtree APG camo-clad protective case that is tough, durable, and camouflaged as to not stand out. The scope is battery powered and includes a CR2032 battery as well as a protective lens cover to keep the amber lens safe from scratching and debris. The scope itself only weighs 3.7 ounces and measures 2.4 inches long.
Depending on the color chosen, you can buy this Bushnell red dot sight for between $84.99 and $89.99.
2. Vokul Tactical 3-9x40mm Illuminated Rifle Scope with Red Laser & Red Dot Sight of Red / Green Reticle Mount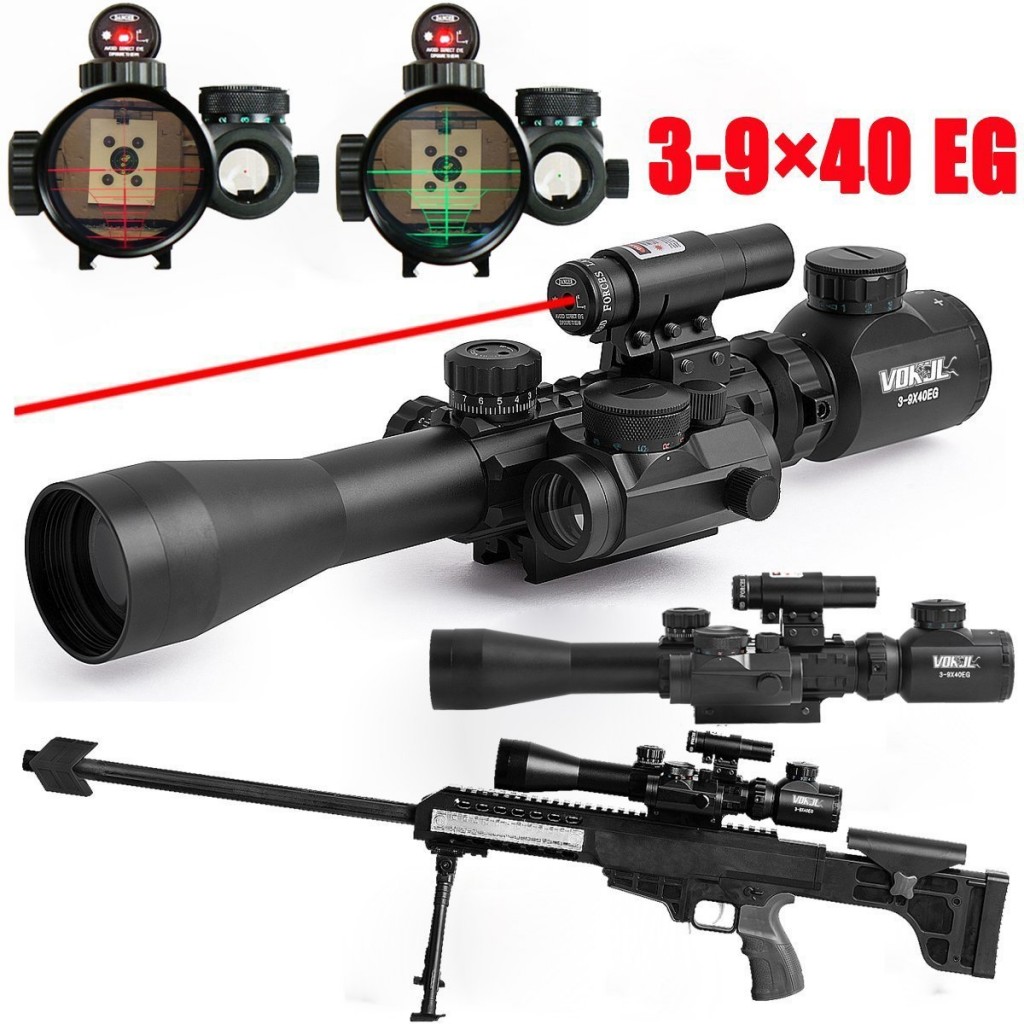 Amazon Link: http://goo.gl/F1p3dB
Vokul has created a five-star red laser and red dot scope that features protections and superior construction that is ideal for all hunters. With a high-optical clarity at 3-9 times magnification and a 40mm objective diameter, this detachable red dot and red laser scope allows for fast acquisition at close quarters and quick moving targets.
The Reticle can be illuminated in both red and green as well as in multiple brightness intensities. With high quality construction and design, this aluminum constructed sight with hard anodized finish is durable and reliable for extensive outdoor use.
This Vokul is waterproof, shockproof, and fog-proof, with compact red laser sight with switch. The red holographic dot is perfect to capture fast moving targets such as deer and the red laser is detachable for hunters who want to fly below the radar. This weather and shockproof scope is 20 ounces in weight and larger than your typical scope at 12.5" x 3" x 3".
However, while larger than some other more compact sights, this Vokul tactical rifle scope is the perfect attachment for expert hunters. It contains a type 5 MOA brightness control as well as a 22mm aperture for superior sight. This Vokul uses a CR2032 battery, which is included with your purchase.
You can buy this scope on Amazon for over 50% off of retail price. Brand new, this incredible and versatile scope costs only $89.99.
3. AIM Sports Red Dot Sight with 4 Different Reticles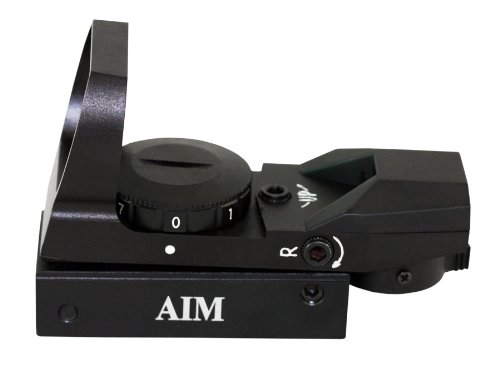 Amazon Link: http://goo.gl/vBssj2
AIM Sports is a brand that offers hunters a cost-effective alternative to more expensive scopes. The AIM Sports Red Dot sight has 4 different reticles and works just as well sights that cost two to three times as much.
This popular scope features a durable anodized aluminum, and is waterproof as well as shock-proof. It contains an open red dot sight with elevation and wind adjustments. There are 4 different reticle patterns to choose from and 7 brightness settings.
AIM Sports features a 1x magnification, 24 x 34 objective diameter, 33mm objective aperture, 3-inch length, and is only 4.2 ounces in weight. This lightweight and compact red dot scope is easy to carry in your hunting pack or simply mount it on any standard weaver rail base.
For only $25.45 (60% off of retail price), Amazon offers one of the best deals for hunting scopes on the market.
4. Field Sport Red and Green Reflex Sight with 4 Reticles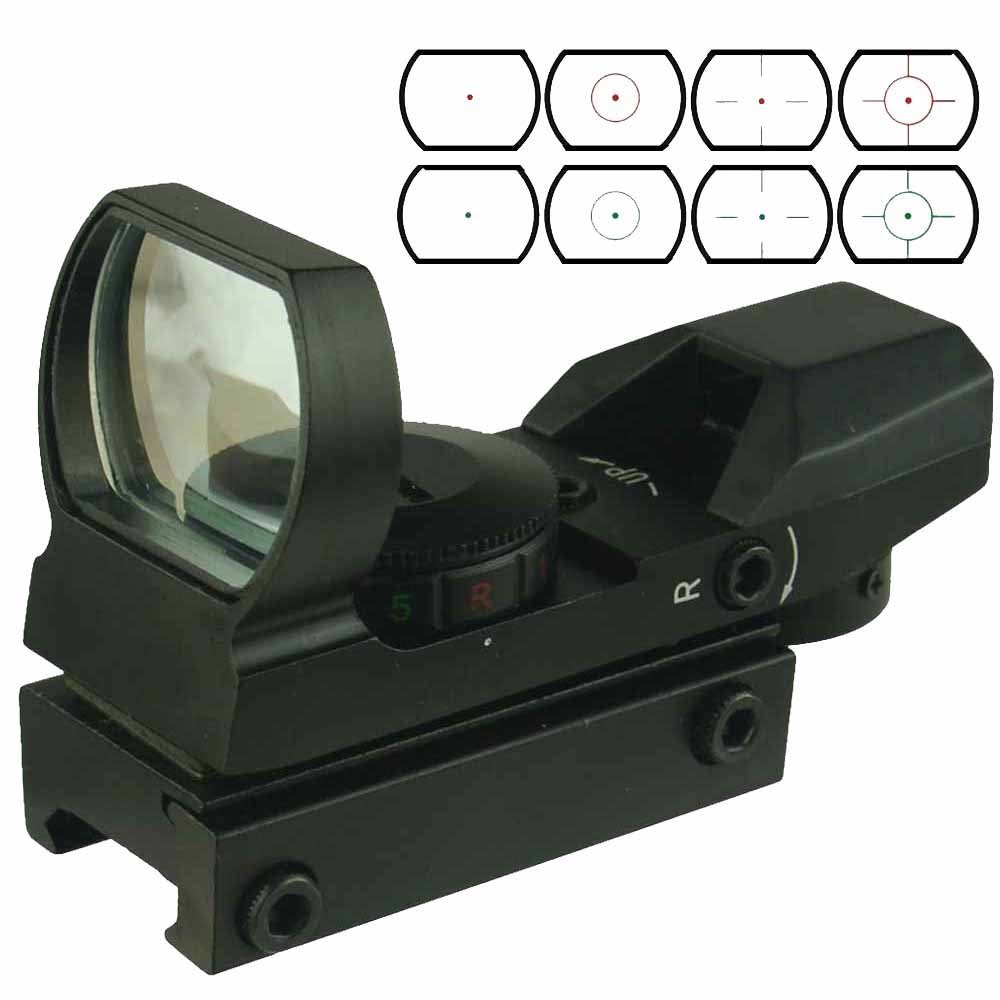 Amazon Link: http://goo.gl/TlR0kU
Field Sport's Green and Red Reflex Sight is another versatile and affordable alternative to larger, more expensive red dot scopes. This open scope features 4 reticles to choose from, depending on your preferences, and is a perfect choice for rapid-firing and fast moving targets.
This lightweight scope is water-resistant and shockproof, so it will be great for outdoor use and will not break if dropped. These features enhance your performance as a hunter in any environment and climate conditions.
The 4 available reticle patterns offer you unlimited eye-relief and corrected parallax. The built-in picatinny mount base makes for easy mounting and by using an Allen head screw, you can make windage and elevation adjustments with a locking screw. By adjusting the focus of the scope as well as distance and brightness of lights, you can get a perfectly clear reticle for a superior hunt.
This affordable red dot scope by Field Sport can be found on Amazon for an incredible price of only $22.45. This is excellent for hunters on a budget and expert hunters who already have the skill and only want an open scope that is affordable and durable.
5. Walther PS 22 Red Dot Sight, 22 Brightness Levels, Weaver / Picatinny Mount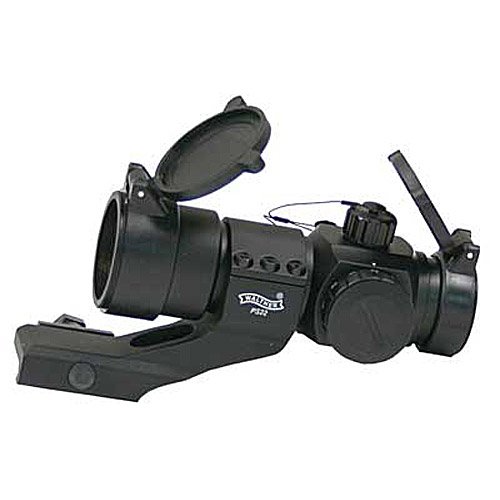 Amazon Link: http://goo.gl/Fg1e1g
Made by German manufacturer Umarex, the PS 22 Walther Electronic Red Dot Point Sight projects a red aiming dot onto the lens in the target level. Perfect for hunters, iron sights such as rear or front sights are not required, thus allowing you to aim with both eyes open. This red dot scope includes a mounting base which can be affixed to a Weaver rail (22 mm), such as on the Walther G22 firearm or a Beretta CX4 Storm firearm.
The on/off rotary switch is combined with 11 settings for brightness adjustment and is powered by a single 3-Volt CR2032 battery. Umarex's Walther Red Dot Point Sight dramatically increases targeting speed in short range shooting situations where fast prey is involved, and for better concentration on the task at hand.
At nearly a quarter off of retail price, you can buy the Walther PS22 for only $59.95. This highly rated scope is rated number 5 overall on Amazon in the Sights and Laser category. Weighing only 5.6 ounces, this compact and lightweight scope is perfect for hunters who are serious about bagging serious big and small game. Coming in a black matte color, this sight is nonobtrusive and has protective lens coverings that will keep this scope safe and scratch-free.